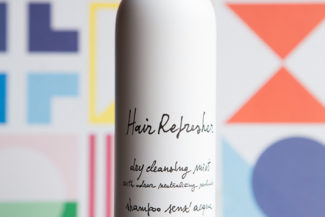 We all know the drill. Alarm clock rings. One more snooze. Just…one…more…
And suddenly you're launching yourself out of bed at a rate of speed that would make fighter jet pilots jealous. You look yourself in the mirror and see your hair kind of resembles the counter at that greasy spoon, dive restaurant you go to for burgers once a week.
Enter Davines Hair Refresher, in one minute flat and a few grease deodorizing and camouflaging sprays, you no longer resemble the greasy spoon, but dare we say a little pulled together Reese Witherspoon?
The Yuzu/lemongrass scent will make even the most hardcore "I wash every single day," girls a little less dedicated to the damaging and drying ravages of everyday shampooing. Hair refresher smells good enough to eat, after all. Something you all mention nearly every time we use our Essential line of haircare.
Lacking volume? Aren't we all? Channeling Dolly Parton has always been a lifetime goal. Not only does Hair refresher deodorize and absorb oil via rice starch, it also adds a little volume for your higher the hair, closer to God world view. Making this can of dry shampoo even better is it leaves behind no chalky white residue characteristic of many dry shampoos, even on the darkest of hair shades.
so go ahead…push snooze one more time you little vixen. It'll be our little secret.